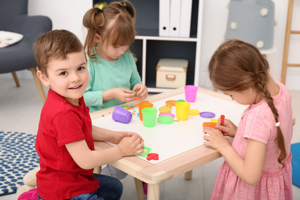 PRE-KINDERGARTEN PROGRAM
The Adventure of Learning
Our Pre-Kindergarten program is for children 4 ½ to 5 years of age. This program will provide your child with multiple activities that promote the eagerness to learn which is so valuable for continued success as children move through their years of education.
Our Pre-Kindergarten curriculum and activities are structured to focus on the following areas of development:
Social Development – Consists of sharing, problem solving, following directions, self control and manners.
Physical Development – Consists of gross motor and fine motor skills. The children will be engaged in activities such as climbing, skipping, jumping, pulling and balance. Children will also be developing their pencil grip, stringing beads, and picking up small objects.
Cognitive Development – The children will learn language and math skills. They will learn science and art through many activities. The children will be learning a variety of concepts including phonics, reading, addition, subtraction, time and money. They will do this through discovery, experimenting, building, creating, painting and molding.
Throughout our daily lessons, and activities, the children learn about the importance of Christian characteristics and values such as love, forgiveness, kindness, and honesty. These are taught with the use of Bible stories and crafts. Children will gain an understanding of these Christian values and the importance of them in all their relationships.