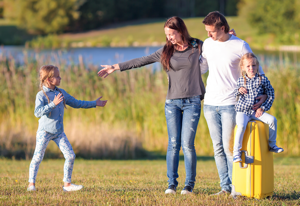 PARENTS
We at Little Arrows strive to build a relationship with each family. The heart of Little Arrows Child Care is best expressed in our motto:
"Sons are a heritage from the Lord, children a reward from Him. Like arrows in the hands of a warrior are sons born in one's youth. Blessed is the man whose quiver is full of them." (Psalm 127:3-5)
Children are viewed as arrows by the Lord, meaning that they need direction and guidance all through their years of growing in your care. They are a heritage to you and a reward. They are very special little gifts, needing very special care.
We see you, the parents, as the bow and your children as the arrows. You have decided to release them to us for continued guidance and loving care. We will, therefore, with the help of the Lord, do our best to care for these special gifts, your children.
One of our goals is to bring a love for learning that will benefit your child throughout their school years and beyond.
We encourage parents to volunteer and participate in events throughout the year, (i.e. special class activities, special programs, fundraising, etc.)
Parent – Teacher Conferences
Little Arrows has three parent – teacher conferences each school year: one in the fall, one in the spring, and one at the end of the school year. Each parent receives a Progress Report about their child and schedules a conference time to meet with their child's teacher. You will be able to view your child's work first hand and talk with the teacher one-on-one about your child's progress.
Parent Socials
Each class is encouraged to have one Parent Social event a year. These events vary from golfing to a pot-luck dinner to a stone soup night, or whatever the teacher chooses. Parent socials provide an opportunity for parents to get to know your child's teacher and other parents in a relaxed atmosphere.
Parents' Night Out
Our Parents' Night Out is always a big hit with our parents. We offer a free night of child care from 6:00 – 9:00 p.m. The date for the event is determined by the Director and subject to change each year. We provide supper, games and a movie for the children while parents enjoy some time alone.